For the last two years, the focus of the world has almost entirely been on covid. Of course, all our other issues have not disappeared. Far from it, the lack of focus has made many much worse! Very close to my heart are stem cell transplants. The process being more complex as our world diversifies. As most of you know I was lucky to find a match from a young man in London. But for many, the search process can be very challenging, highlighted by Andreas case below.
Andrea lives in the US and is of Greek heritage, but her situation is magnified a million times over, around the world. Donors are becoming less and there is such little publicity about this. In many cases an entire generation know so little about how their cells can save a life! The process is so simple now. Initially a swab or saliva, then if you are selected as a possible life-saving match, a process very similar to giving blood. My life was saved by such a selfless act. Let's see if we can help Andrea and millions of others!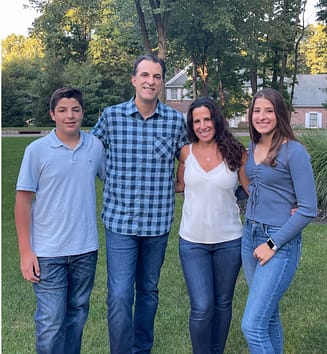 "I remember being with Andrea this summer, lounging on the porch of a rented beach house at the Jersey Shore. Looking over at her and both of her kids, Niko (14) and Sophia (16) on a seat made for two, I was just filled with love for them. The kids' Yia Yia, Andrea's mother, was cooking up a storm and yelling at everyone to eat. With Andrea's brother Marc and his 3 kids there as well, it was absolute chaos to this non-Greek. Magnificient, wonderful, "My Big Fat Greek Wedding" style chaos. As we chatted on the beach, worked on a 1000 piece puzzle, biked and ate ice cream, no one was thinking about anything but summer. Andrea is healthy and active and always has her yearly physical.
It was at this routine doctor's appointment that her doctor saw an abnormality in her blood work. This is the moment everyone's worst nightmare came true. We had no idea that our lives were about to come to a screeching halt and the word "cancer" was going to be a part of our everyday vocabulary. Andrea has Leukaemia. Not just Leukaemia, but an extremely rare and aggressive form of it. The family gathered, and no less than 1 million tears were shed, and almost as many hugs were shared. At this early stage, no one knew anything, life was a blur. How was the world continuing to spin? Did everyone not hear the news? Andrea has Leukaemia!
It's been a few months now, is the diagnosis easier to accept? No. Do we know more? Yes. Are we still living a nightmare? Without a doubt. However, we are not without hope. What would normally not be curable, because of Andrea's age and health, can be cured with a stem cell transplant. Alas, another call from the doctor upended our world. While the family was on vacation (yes, all 13 on vacation together because that's who they are), Andrea was told no one in the family was a stem cell match. Worse, there was not a match in the world donor bank either.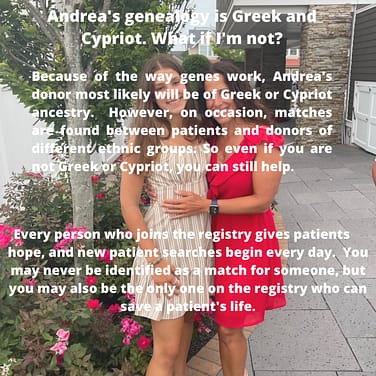 There are 39 million people in it and not 1 matched Andrea? But more importantly, there are 7.7 BILLION people in the world, why are only 39 million of them registered as potential donors? I've been on the registry since I was 19, is this not something people do anymore? Through this journey of trying desperately to add donors to the registry for Andrea, I have realized that people, especially the younger generation, do not know that a simple cheek swab is all it takes to find out if you are a lifesaving match.
There is a Greek or Cypriot out there that will be a 10/10 match for Andrea, we just have to find you. Those that are not Greek can be the hero for one of the hundreds of thousands of babies, children's, moms, dads, brothers and sisters that are waiting as well. Please order your cheek swab, please. Save our Andrea. Save someone's child. Click http://www.swab4andrea.com/ to find the link to order a swab in your country and find out more about the campaign."
I would like to say a massive thank you to Erin, who contacted me about this case and wrote this piece. My promise was to get the world talking again about the power of stem cells. This post is not only about Andrea. This issue is a big problem around the globe. There are many charities that do great work but without more donors, more people will be dying of blood cancer etc. Please share this post and mention it to friends, I know from my own experience what an impact this can have.