I would like to thank the incredible Maggie Watts @maggiewatts for sharing her very moving and frustrating story, about the dreadful lack of inaction within the Pancreatic Cancer sector.
"Imagine you want a sparkly new outfit but the shop can offer you nothing more than relics from the seventies (yikes, bell bottoms and tie dye shirts)….Or you're in the market for a new car and the salesman is trying to palm you off with a 50 year old rust bucket…. Or in the Apple store you can only find a mobile phone the size of a brick………
No-one wants to be stuck in a time warp but if you're unfortunate enough to be diagnosed with pancreatic cancer, that's exactly where you'll be. Faced with survival rates that have barely improved since the seventies. Limited treatment options and, for the majority, a very poor prognosis. The reality is that for pancreatic cancer, nothing much has changed in 50+ years!
I was 44 years old before I knew this. So, in all of my lifetime, pancreatic cancer had seen no progress. I'd been fortunate that no-one close to me had been affected by cancer previously. So I wasn't paying too much attention to the inequalities that existed. Actually, I had NO knowledge whatsoever that they even existed at all.
Of course I knew that cancer needed funds and for years I'd paid a monthly Direct Debit to a large cancer charity. Naively thinking that all cancers were treated equally and that I was supporting them all. But in 2008 when my husband received his diagnosis, I discovered that less than 1% of my donation had been going towards pancreatic cancer. I was soon to find out that pancreatic cancer had been neglected forever which meant that my husband wasn't going to be alive for very much longer.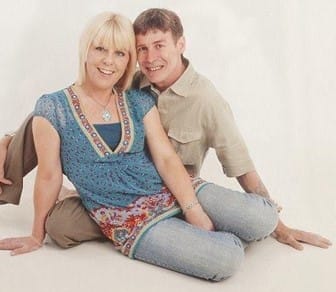 Kev's diagnosis was a shock. He was rarely ill but, for seven months he'd just not been right. As a result of going backwards and forwards to his GP, we were now sitting in a consulting room being told that his vague symptoms of back pain, a little weight loss and an upset stomach, (which the GP dismissed as being connected) was actually terminal cancer and his time left was very limited!
This was just too hard to comprehend. I wanted the best for Kev. I wanted treatment options, more time and certainly hope. We got none of these – they didn't exist, we were in a pancreatic cancer time warp.
I left the hospital believing that if I Googled long and hard enough I'd find something and we'd get what we needed to give our family a chance of holding onto Kev. I'm sure Google was well and truly cheesed off with me over the next few days, as I asked it the same question in 1001 different ways. 'Longest surviving inoperable pancreatic cancer patient', 'how can you survive for a long time with pancreatic cancer', what is the best treatment option for pancreatic cancer to keep you alive' 'where can you go to get the best treatment for pancreatic cancer' 'who is the expert on pancreatic cancer'………………..
As fired up and determined as I was to find a solution, it didn't take long for the penny to drop. If you were going to get cancer, this was one of the worst. We really were in trouble! The following hours, days, weeks spent on Google kept leading me back to the same conclusion. Eventually I had to accept that there was very little good news to be found. Kev was determined to survive as long as possible. We'd been told between 12-18 months. He made it to 20, but the end came quickly, a few days before Christmas 2009.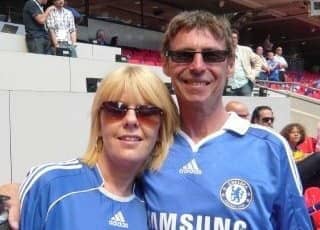 Now, 12 years on, I realise how 'lucky' we were to keep Kev for 20 months. I've since met people who lost loved ones within months or even weeks of diagnosis and I'm all too aware that if we hadn't pushed the GP for a scan, that could have been us. In fact, 1 in 4 will die within a month of their pancreatic cancer diagnosis. In contrast 1 in 10 people will die on average if diagnosed with one of the 19 other common cancers – source – Pancreatic Cancer UK.
Without a doubt, pancreatic cancer has been neglected. In the last 12 years, I have seen a teeny bit of progress (research funding now c3%) but it's nowhere near enough, we need so much more. The pandemic is predicted to set back all cancer research. There were already limited funds in the 'pancreatic cancer research pot' and I'm more concerned than ever now at the ability to see future progress if these funds are going to be further diminished.
Lack of research is only one part of the problem, the other being very little awareness around the symptoms. It's down to the few small charities and people who've lost loved ones to try and highlight the symptoms. This is so important because early diagnosis could mean the difference between life and death.
I realise now that if I'd been symptom aware when Kev first started feeling ill, I may have pushed for him to visit a GP sooner. In turn he may have been diagnosed earlier and he may have been caught at an operable stage because his tumour was only just inoperable when he was diagnosed. We'll never know if things could have been different, but I believe they possibly could.
I don't know what the future holds for pancreatic cancer. I'm ever the optimist which is why my awareness campaign is called 'Hope Is Contagious.' Just because there hasn't previously been hope, doesn't mean it always has to be that way. I believe if we keep pushing for more then change will eventually come.
My suggestion, if you're reading this, is perhaps you may want to take a moment to familiarise yourself with the symptoms of pancreatic cancer. None of us are immune, it can affect anyone at any age so it's in everyone's interests to be symptom aware.
I would also ask that if you see anything about pancreatic cancer on social media, please consider helping us by sharing it. The charities aren't huge and the survivors are few (5yr survival rate – 7%), we need all of the help we can get to raise awareness further. A quick social media share of the symptoms could reach someone who needs to see them.
The fact that the medics could offer Kev no better a chance of survival in 2009, than they could his mum 40 years earlier, when she too was diagnosed with pancreatic cancer is shocking but true! More information can be found at www.hopeiscontagious.co.uk. Please help to create change so that we can see a day in the future when patients receive a pancreatic cancer diagnosis which is accompanied with hope #hopeiscontagious."
This is a very stark reminder about what can happen when there is such little progress in cancer research. Something that I can see happening more generally, with the seemingly total lack of interest from Government and seniors in the NHS. Unfortunately nothing will change quickly enough for our families, unless we at least make some noise about the situation. This is not something we can leave to others, and must be done now!