During these unprecedented times, I am finding myself working with more and more incredible cancer clinicians. These guys are also struggling under the current circumstances with waiting lists etc getting longer. I would like to say a massive thank you to my friend, Professor Aali Sheen who is a Consultant Surgeon in Manchester. Aali has taken the time to share what life looks like from his side of the fence. This piece is longer than usual but it needs to be!
26th March 2020
"It's lock-down so, what are we going to do? I have at least 15 people waiting for a cancer operation. I've done this job for almost 15 years and I thought I'd seen absolutely everything, done everything, and with 750 cancer operations behind me there is very little that I cannot really see myself not being prepared for? But a virus? You've got to be serious.  
First things first, the NHS Trust that I work in mobilised all resources available to deal with the pandemic. We had PPE, there was a separate rota for us all, we undertook junior doctor roles, the hospital became a quiet zone with only the sickest and those with Covid remaining.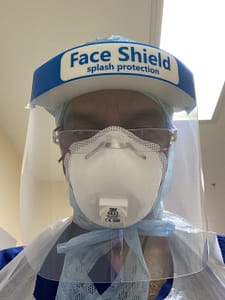 I was given a list of all my patients that were awaiting cancer surgery. Those over a certain age and with health risks which, potentially gave them a higher chance of succumbing to a Covid infection were temporarily postponed. Calling these patients wasn't as difficult as I expected as most, if not all, actually did not want to come into hospital. The pancreas cancer operations were expedited as delays here can mean serious trouble for the patient i.e. their disease can become inoperable. The other main operation I undertake is when bowel cancer spreads to the liver. This one I have a little bit of time to play with however, it is best to crack on and operate on all those that are fit and healthy, so I make a plan.
With the help of my team, all patients are discussed at a cancer board. They make sure that we've dotted all the i's crossed all the t's and that the patients are aware there is a risk of them developing or contracting Covid when they come into hospital, so they could actually become sicker.
Sometime in early April 2020
Eventually my first patient comes in, on their own, no relatives allowed. I'm dressed up like a Martian awaiting to take my first steps onto a newly found planet from my spaceship, but just now I'm merely standing next to a patient and he's going to have a cancer operation undertaken by me.
Me: "Glad you came in OK, and you do not have covid as our swab test shows that you're negative"
Patient: "Thank you Professor, I believe you were going to do my operation key-hole?"
If you imagine, I'm now standing by his bed, he has no relatives with him, naturally a little afraid, everyone is gowned up and so dressed differently, I have a special mask over my face which means I'm having to literally shout so he can hear me.
Me: "Well yes that was the plan, but we've received guidance from the Royal College of Surgeons to say we cannot undertake any keyhole surgery because it produces 'fumes' or aerosols and this potentially can carry 'bugs' and infect us during this pandemic? So, I will have to just make a hole in you if that's okay? Basically, the old-fashioned way – but it's tried and tested so don't worry let's get this done and get you home safe and sound?"
The patient is happy, we're happy, the operation is to take place in a non covid part of the hospital, a different Theatre than I am used to, but the same team, so no bother for me.
I've a bit of a reputation of being a good trainer but I say to the trainee 'we just need to get this operation done quick, so I'm going to do most of it if that's okay' he understands, acknowledges that this is how it's going to be for a little while; he's lost out on a little bit of training but I'm sure we'll make up for it later.
Theatre scrub room – A friendly scrub nurse is there to help – why, I've done this probably about 4000 times, but now today it's going to be different. Yes, you need to wash your hands but before you do you need to put 'this' mask on, then these are 'goggles' now this visor, then you need to put a plastic apron on, then wash your hands, after which you've got your surgical gown, sterile gloves, okay, great – Oh my God I can hardly move!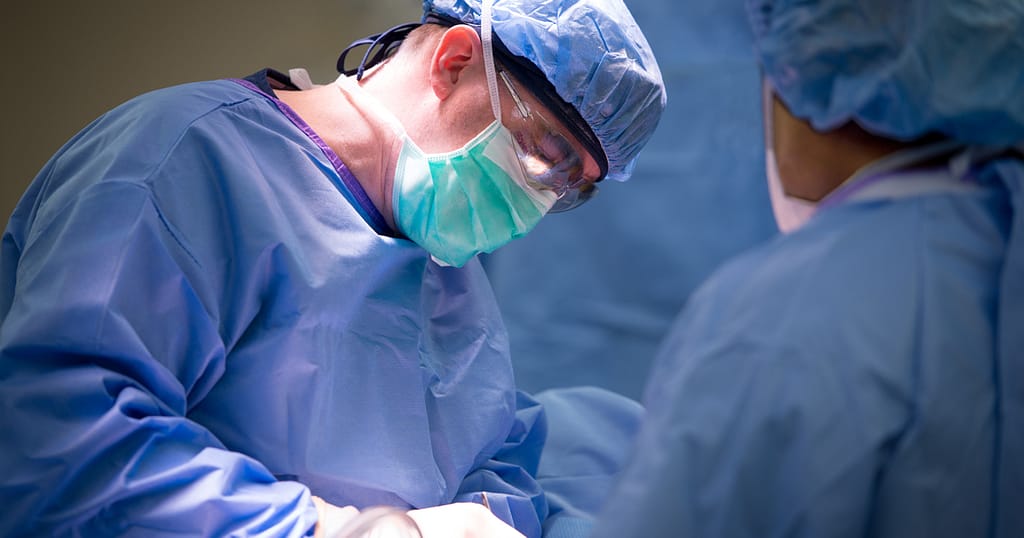 As surgery begins it is eerily quiet in my operating Theatre. I'm known for having a little stereo sound system tucked away in the corner with someone's playlist on (mines a bit boring now), the music is usually just audible in the background, not too loud but not too quiet and it helps create a nice salubrious environment so we can get the job done – relax, chill, keep calm and carry on – operate. The doors are usually locked, but this time they're virtually bolted so no one can go in and out there is a person outside who will get any equipment that we need. Everyone is fully gowned and boy it's hot wearing all this gismo, mask is tight, I sound like Darth Vader when I speak, no one can hear my jokes, so mercifully have to keep quiet which is hard for me and yes I can see through this visor –  thank God.  
The patient has a big liver, it's a bit heavy, but I managed to get all the cancer out thankfully.
Abdomen closed – sign out – patient needs to wake up – I'll call the relatives and then shower – home soon – just hope the patient, and my team and I, do not contract covid – this is something we all think each day……..
The patient does well post operatively. Every time we have to see him, we have to dress up with our PPE, lots of protective equipment, I am surprised he recognises me and unbelievably he goes home sooner than expected.
Hmmmmmmm, that's interesting, maybe we could use this pandemic and improve our services? A patient has had a major liver resection, cancer removed, open surgery and I've got him home on day four and I didn't even have to  try, that's good, usually patients stay in anything between 7 and 10 days or longer, so something to work on I think. Something that if we can achieve, will be better for us, the patients and overall the NHS.  
As a surgeon much changed, our whole working pattern was different. We arranged telephone consultations for many of our cancer patient's post-surgery and they all found this very appealing. Let's think about it, it saved them driving in, parking up, paying for parking (unfortunately something most have to do these days) and then having to wait for at least an hour in outpatients to see us – all of this now avoided with a simple phone call in the comfort of your own home and a Cup of tea by your side, fantastic.  
Oh yes – No complaints – no letters from personal injury lawyers or them banging on our doors – we all try our best, so let's keep morale up shall we and hope they do not return…………………………..
7th September 2020
As a cancer surgeon all I can say is; I'm proud of where I work as we've achieved a lot with cancer surgery in a stressful environment, the specialist nurses have helped us immensely and are still helping us with their invaluable support to our patients. Our managers and directorate chiefs had meetings after meetings after meetings – I lost track at one point of all the emails however, the main goal was to do everything we could for our patients and as safely as possible. We still have much to do but most of all I am grateful to my patients for their understanding, patience and resilience during this time as they had cancer in their bodies, which needed to be removed surgically by us but realised that there was another disease in the air that we are all fighting against and still are.
My patient from April is well – No cancer and No Covid. "
Prof Aali J Sheen @aalisheen
Thank you Aali, for everything you and your colleagues are doing in this 'cancer crisis.' Let's hope that the Government see sense and get cancer services back where they need to be!